Assistants:
Thomas Hains, PA-C has numerous certifications including Advanced Cardiac Life Support, HIV/AIDS Epidemic Update Training, Domestic Violence Training, and much more. Read on to find out what he contributes to the Florida Ortho Surgeons' team of professionals! EDUCATION University of […]
View Profile
Dr. Mark Torke, MD earned his Bachelor of Science degree in biochemistry at the University of Wisconsin – Madison. He then received his medical degree at the University of Wisconsin Medical School.
After completing a one year general surgical internship at the University of North Carolina – Chapel Hill, he continued there with a four year orthopaedic surgical residency. During that time he cared for many intercollegiate and Olympic class athletes.
Dr. Torke concluded his formal education with a pediatric orthopaedic rotation at Alfred I. DuPont Institute.

He has performed over 1,500 joint replacement surgeries. Dr. Torke is also an Orthopaedic Surgeon for the Toronto Blue Jays. In addition to sports injuries, his special interests include Arthroscopic surgery, Cartilage Transplants, minimally invasive Total Joint Replacements, Pediatric Orthopaedics,  Shoulder Surgery, Shoulder Athroscopy, Carpal Tunnel, Total Hip Replacement, and Outpatient Knee Replacement Surgery.
He is a member of the American Board of Orthopaedic Surgery, fellow of the American Academy of Orthopaedic Surgeons, and fellow of the American College of Surgeons. Dr. Torke holds a teaching appointment with USF/MPM Family Residency Program and Barry University Physician Assistant Health Science program. He was Chief of Orthopaedics at Morton Plant Mease Hospitals for over ten (10) years.
Dr. Torke is a consulting physician for the Toronto and Dunedin Blue Jays and has been in practice in the Tampa Bay area since 1990
Outpatient Uni Knee Replacement
Dr. Torke has performed many outpatient unicompartmental knee procedures safely. An outpatient unicompartmental knee is an advanced alternative to traditional inpatient care to resurface the damaged compartment of your knee that is causing you pain with an artificial covering in the outpatient setting. The surgery can reduce knee pain and allows for complete recovery at home.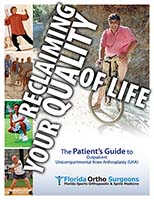 Download your free Patient's Guide to Outpatient UKA
Physician Reviews:
Reviewer Rating:
I have been to Dr. Torke for two problems and he has been excellent both times. I had a total knee replacement on Nov. 8th and was walking without pain after less than a month. I have had problems with […]
Read Full Review