Outpatient Uni Knee Replacement
Schedule Appointment
What is it?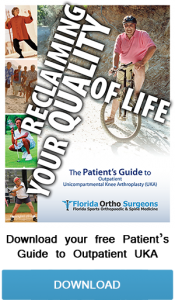 An outpatient unicompartmental knee is an advanced alternative to traditional inpatient care to resurface the damaged compartment of your knee that is causing you pain with an artificial covering in the outpatient setting. The surgery can reduce knee pain and allows for complete recovery at home.
How long will surgery take?
Your surgery will take one to one and a half hours on average. Plan to be at the center about four to five hours.
How is the knee resurfaced?
An incision is made on the front of the knee, just to the inside of center. The damaged bone is cleared away. The surfaces are prepped and shaped to hold the new components. The new components are aligned and secured to the thigh bone and shin bone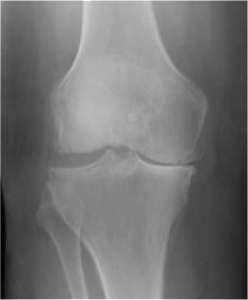 BEFORE – Unicompartmental Arthritis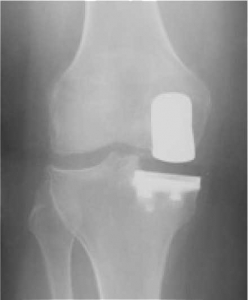 AFTER – Following Outpatient Unicompartmental Arthroplasty
What are the risks of surgery?
Florida Ortho Surgeons has performed many outpatient unicompartmental knee procedures safely. However, there are potential complications associated with any surgery. Following are some of the common complications which are associated with uni knee surgery, and precautions to help prevent them:
Infection
With all surgery there is a risk of infection. Your pre-admission test results will confirm you have no active infections before surgery. Antibiotics administered before and after surgery, and other precautions such as cleaning the surgical site with antimicrobials prior to surgery, will further help prevent infection.
Blood clots
With uni knee and other joint replacement/resurfacing surgery, circulation is impaired during the healing process. To counterbalance this effect and promote circulation, you will be asked to pump your feet and exercise your ankles to increase circulation following surgery and during recovery.
Take one aspirin twice a day to further help prevent blood clots. Heparin given just under the skin may be used if there's an increased risk or history of blood clots.
Pneumonia
Breathing deeply after surgery and using an incentive spirometer (a small, manual breathing device that measures how well you are filling your lungs with each breath, and helps you exercise your lungs) are important ways to prevent congestion from building up in your lungs, which can lead to pneumonia.
Bladder infections
Bladder infections may also occur, so it is particularly important to drink plenty of fluids to help prevent this type of infection.
Numbness
You will experience some numbness on both sides of your knee incision following surgery. This is normal and should not cause you concern. During surgery, the nerves around the joint are disturbed; as these nerves heal, you may experience a tingling sensation. You may experience permanent numbness in a small area around your incision. This will not affect the function of your knee. In only rare situations is there permanent numbness or weakness to the area as a result of trauma to the nerve.
Severe complications
As with all major surgery, there is a possibility that complications from any of the above, or from the anesthesia, could be severe enough to result in death. Please discuss all questions and concerns with Florida Ortho Surgeons or your anesthesiologist.